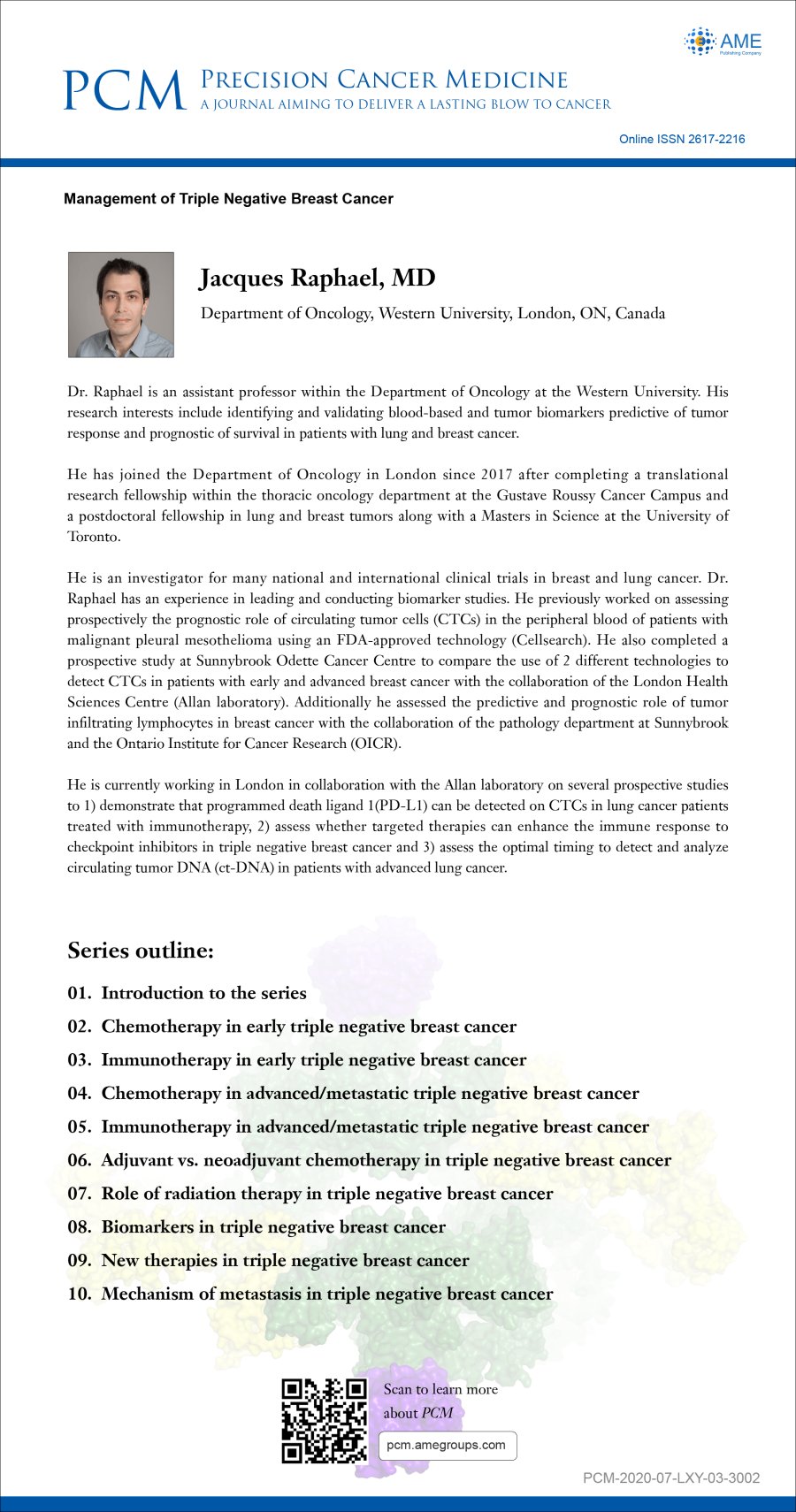 This series on "Management of Triple Negative Breast Cancer" is edited by Dr. Jacques Raphael, MD, Department of Oncology, Western University, London, ON, Canada. This series will systematically explore different options, approaches and techniques such as chemotherapy, immunotherapy, adjuvant and neoadjuvant chemotherapy, as well as radiation therapy and biomarkers etc., so as to improve the treatments for triple negative breast cancer.
Jacques Raphael, MD
Department of Oncology, Western University, London, ON, Canada
Dr. Raphael is an assistant professor within the Department of Oncology at the Western University. His research interests include identifying and validating blood-based and tumor biomarkers predictive of tumor response and prognostic of survival in patients with lung and breast cancer.
He has joined the Department of Oncology in London since 2017 after completing a translational research fellowship within the thoracic oncology department at the Gustave Roussy Cancer Campus and a postdoctoral fellowship in lung and breast tumors along with a Masters in Science at the University of Toronto.
He is an investigator for many national and international clinical trials in breast and lung cancer. Dr. Raphael has an experience in leading and conducting biomarker studies. He previously worked on assessing prospectively the prognostic role of circulating tumor cells (CTCs) in the peripheral blood of patients with malignant pleural mesothelioma using an FDA-approved technology (Cellsearch). He also completed a prospective study at Sunnybrook Odette Cancer Centre to compare the use of 2 different technologies to detect CTCs in patients with early and advanced breast cancer with the collaboration of the London Health Sciences Centre (Allan laboratory). Additionally he assessed the predictive and prognostic role of tumor infiltrating lymphocytes in breast cancer with the collaboration of the pathology department at Sunnybrook and the Ontario Institute for Cancer Research (OICR).
He is currently working in London in collaboration with the Allan laboratory on several prospective studies to 1) demonstrate that programmed death ligand 1(PD-L1) can be detected on CTCs in lung cancer patients treated with immunotherapy, 2) assess whether targeted therapies can enhance the immune response to checkpoint inhibitors in triple negative breast cancer and 3) assess the optimal timing to detect and analyze circulating tumor DNA (ct-DNA) in patients with advanced lung cancer.
Series outline:
Introduction to the series
Chemotherapy in early triple negative breast cancer
Immunotherapy in early triple negative breast cancer
Chemotherapy in advanced/metastatic triple negative breast cancer
Immunotherapy in advanced/metastatic triple negative breast cancer
Adjuvant vs. neoadjuvant chemotherapy in triple negative breast cancer
Role of radiation therapy in triple negative breast cancer
Biomarkers in triple negative breast cancer
New therapies in triple negative breast cancer
Mechanism of metastasis in triple negative breast cancer