Review Article
Predictive and prognostic implications of microsatellite instability and mismatch repair deficiency in carcinomas of the gastrointestinal tract, liver, and pancreas
Introduction
Loss of genomic integrity with its subsequent propagation is a key feature of carcinogenesis. One of the mechanisms of maintaining replication fidelity is the mismatch repair (MMR) system, which is especially important in monitoring DNA replication in repetitive regions of the genome (microsatellites). These microsatellite sequences consist of a one to six base pair sequence that is repeated from five up to fifty times; these repetitive sequences are especially vulnerable to slippage errors by DNA polymerase, resulting in aberration in the number of repeats in the replicated sequence [microsatellite instability (MSI)]. Loss of function of one or more mismatch repair system elements results in an inability to repair those errors [mismatch repair deficiency (MMRD)]; as such, MSI in tumor samples is used as a marker of MMRD (1).
In humans, the components of the mismatch repair system include MLH1 (mutL homolog 1), PMS2 (PMS1 homolog 2), MSH2 (mutS homolog 2), and MSH6 (mutS homolog 6), antibodies against which are commonly utilized in clinical practice, as well as MLH2 (mutL homolog 2), MLH3 (mutL homolog 3), and MSH3 (mutS homolog 3). Heterodimers of MSH2-MSH6 (MutSα) and MSH2-MSH3 contribute to repair of single base and 1-2 base insertion-deletion mismatches, while the MLH1-PMS2 (MutLα) heterodimer coordinates mismatch binding by MSH homologues, and is involved in a wide range of mismatch repair (1). Defects in the mismatch repair system result in mutations of genes containing microsatellite sequences; subsequent selection pressure favors clones with survival advantages, thereby driving carcinogenesis (2).
The importance of MMRD in gastrointestinal and pancreatic carcinomas is not only limited to screening for Lynch syndrome. The high neo-antigen load of microsatellite instability (MSI-H) carcinomas makes them highly susceptible to immune surveillance, and, by extension, immunomodulatory therapies; for example, in vitro and in vivo studies of colorectal, breast, and pancreatic ductal adenocarcinoma (PDAC) cell lines with inactivation of MLH1 using the CRISPR-Cas9 system showed poor tumor growth in immunocompetent mice (but not in immunocompromised mice) (3). Moreover, transplanted MMRD tumors exhibited impaired growth after treatment with anti-CTLA-4 (cytotoxic T lymphocyte-associated antigen 4) and anti-PD-1 (programmed death-1) antibodies (3). With the Food and Drug Administration (FDA) approval of pembrolizumab, an anti-PD-1 antibody, for unresectable or metastatic MSI-H or MMRD solid tumors, there is increasing interest in identifying those patients with tumors eligible for this treatment (4).
The purpose of this review is to provide an overview on methods of evaluating MSI and MMRD, as well as the range of clinicopathologic features of gastrointestinal and hepatopancreatobiliary carcinomas with MMRD.
---
Defining and measuring MSI: Lynch syndrome and beyond
Lynch syndrome is one of the most common hereditary colon cancer syndromes, and incorporates patients with germline loss of function in one of the DNA mismatch repair genes MLH1, PMS2, MSH2, or MSH6, deletion in the 3' end of the EPCAM gene (thereby impeding transcription of MSH2), or constitutional MLH1 inactivation (characterized by germline methylation of the MLH1 promoter).
Although numerous clinical criteria have been proposed, the sensitivity and specificity of these criteria are variable, even after incorporating histologic parameters (5). As such, universal screening for Lynch syndrome in patients with new diagnoses of colorectal carcinoma is recommended by the National Comprehensive Cancer Network (NCCN), American Society of Clinical Oncology (ASCO) (6), European Society of Medical Oncology (ESMO) (7), American College of Gastroenterology (ACG) (8), and the US Multi-Society Task Force on colorectal cancer (9), among others. The Australasian Gastrointestinal Pathology Society (AGPS) recommendations are similar to those of US professional societies: All first-time colorectal adenocarcinomas should be tested for MMRD, all 4 immunohistochemical stains (for MLH1, PMS2, MSH2, and MSH6) should be performed, patients with MLH1/PMS2D should go on to have BRAF V600E testing or MLH1 promoter methylation analysis, testing should be done on index biopsies and reporting terminology should be clear (10).
Evaluation of MMRD has traditionally been done through immunohistochemistry for the mismatch repair components and polymerase chain reaction (PCR) to look for aberrant replication at microsatellite regions. In recent years, next-generation sequencing methods have also come to the forefront in the setting of decreased costs of sequencing. Each of these methods are elaborated in the next sections.
Mismatch repair protein immunohistochemistry
Immunohistochemistry is the preferred first-line method of assessing MMRD, both because of the relative facility of the test, and for its less stringent tissue requirements as compared to MSI testing by PCR (MSI PCR) (11). Moreover, in non-neoadjuvant treated specimens, there is a high rate of concordance between biopsies and resection specimens (12) as well as between primary and metastatic sites (13), enabling testing of samples for which a matched non-neoplastic area is unattainable.
Interpretation of MMR immunohistochemistry is dependent on the biology of the heterodimers; MLH1 and MSH2 are each the dominant partners within their respective heterodimers (MLH1-PMS2 and MSH2-MSH6). As such, mutation or inactivation of MLH1 or MSH2 will destabilize their respective binding partners (PMS2 and MSH6 respectively), and result in loss of expression of both proteins. In contrast, mutation of either PMS2 or MSH6 will result in loss of the obligate partner only. With this reasoning, a two-stain panel comprising PMS2 and MSH6 has been suggested as a more cost-effective substitute for the usual four immunohistochemical stain panel, with some studies showing similar efficacy for the two panels (14,15). In contrast, other series revealed that a subset of patients with MSH2 loss by immunohistochemistry had either equivocal or intact MSH6 expression, resulting in relative insensitivity of a two-stain panel in those cases (16). Furthermore, more than three quarters of cases with MSH2 loss of expression and intact MSH6 expression had germline MSH2 mutations (16). In the context of the potentially devastating consequence of missing MSH2-deficient Lynch syndrome, as well as the relatively minimal amount of tissue required to perform the two extra stains, a four-stain panel is suggested for the purposes of Lynch screening.
In general, immunohistochemistry for mismatch repair proteins is relatively easy to interpret, and algorithmic approaches to interpretation and subsequent clinical management have been previously described (11). However, in a number of situations, there can be difficulty with interpretation of the stain (particularly with MSH6 and PMS2). For example, loss of, or aberrant cytoplasmic staining for, MSH6 and PMS2 unrelated to functional MSI or germline mutation has been reported in the setting of chemotherapy-treated microsatellite stable (MSS) colorectal carcinomas (12,17-19). In addition, secondary mutation of the MSH6 poly-C tract with subsequent loss of staining has been reported in tumors with MLH1-PMS2 deficiency (19,20). Finally, a subset of Lynch syndrome patients with germline mutation of MLH1 shows only loss of PMS2 by immunohistochemistry, with weaker staining for MLH1 (12,21). A summary of aberrant immunohistochemical findings is listed in Table 1.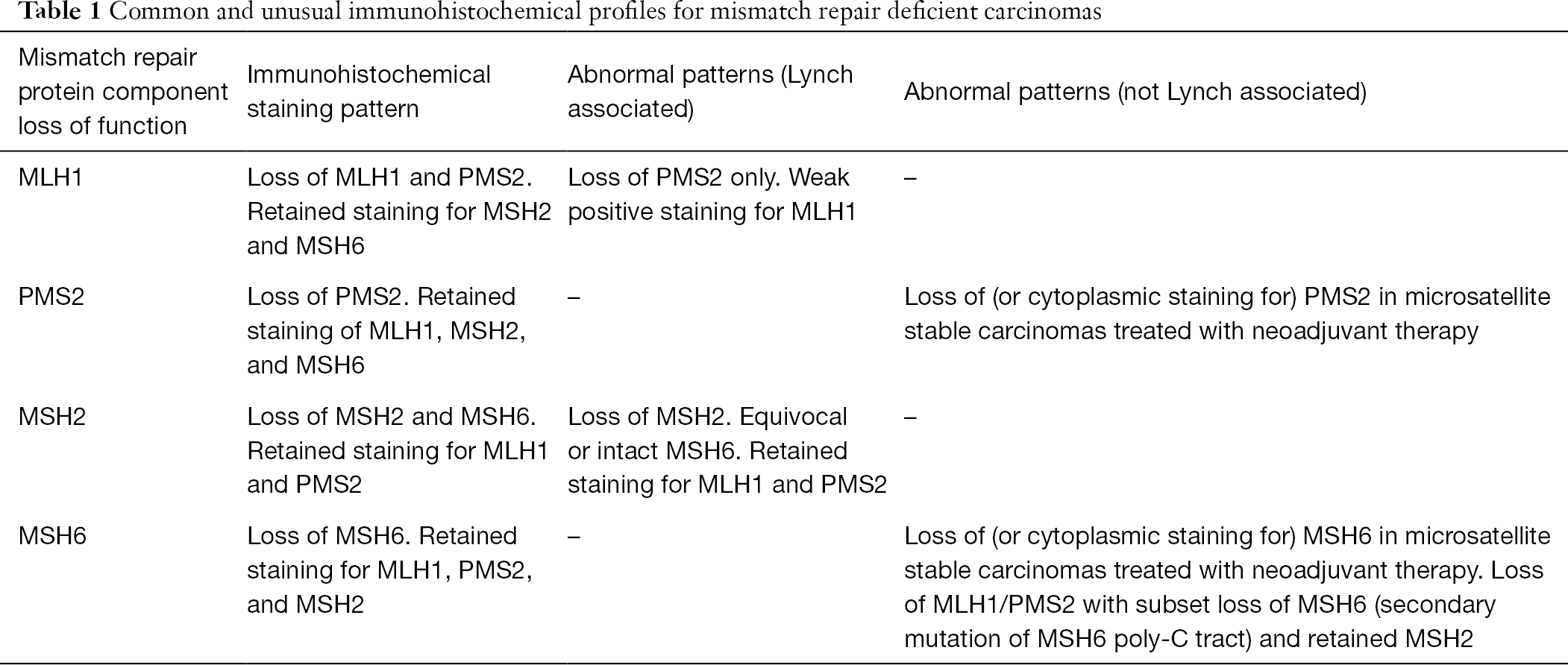 Table 1
Common and unusual immunohistochemical profiles for mismatch repair deficient carcinomas
Full table
MSI testing by PCR
Assessment of MMRD by PCR is predicated on aberrant replication at regions of the genome showing highly repetitive sequences (microsatellites). The Bethesda panel, designed to assess colorectal carcinomas with MSI, is composed of two mononucleotide repeats and three dinucleotide repeats (BAT26, BAT25, and D2S123, D5S346, and D17S250 respectively), and is one of the most ubiquitous panels to assess for MSI. In the context of the Bethesda panel, high levels of MSI (a MSI-H phenotype) is defined as two or more of the five loci showing instability, while instability in one marker is defined to have low microsatellite instability (MSI-L), and MSS tumors showing no instability in any of the five markers. In contrast to MSI-H colorectal carcinomas, those showing a MSI-L phenotype do not comprise a homogeneous population, despite suggestions that an MSI-L phenotype in hyperplastic polyps and serrated polyps represents a separate pathway of carcinogenesis (22-24). While some studies have suggested a higher rate of KRAS mutations in MSI-L tumors (25), the heterogeneity between studies in their definition of MSI-L tumors makes comparison difficult.
Furthermore, the absence of an MSI-H phenotype by MSI PCR does not always mean that a tumor is MMR proficient; in particular, an MSI-L phenotype can also arise in the setting of MSH6 Lynch syndrome (26,27). As such, while MSI PCR is a useful adjunct to assess for MMRD, consideration of results in context is needed.
MSI testing and next generation sequencing (NGS)
Numerous studies have been published in the last decade utilizing criteria from NGS (28-33). As NGS assays are increasingly utilized in clinical labs, combinatorial assessment of individual gene mutational status and mutational signatures is becoming more important.
Multiple studies using different criteria have been published to evaluate the feasibility of determining MSI using NGS-based methods. A study by Stadler et al. utilizing paired sequencing of tumor and normal tissues found that a mutational load cutoff of ≥20 and <150 had sensitivity and specificity of 100% using a custom 341 gene assay, MSK-IMPACT (31). A subsequent study by Nowak et al. generalized this finding to other large-scale NGS platforms without the requirement of paired normal tissue sequencing (32). Using the criteria of >40 total mutations per Mb and >5 single-nucleotide insertion-deletions (indels) in repeat regions per Mb, they calculated a sensitivity of 92% and a specificity of 100% for MMRD by immunohistochemistry in a training cohort and 91% sensitivity and 98% specificity in a validation cohort (32). Additionally, they calculated 100% sensitivity and 100% specificity for MSI by PCR in the training cohort and 100% sensitivity and 95% specificity in the validation cohort (a single discordant case was a POLE-mutated colorectal carcinoma) (32).
A subsequently published approach to evaluate MMRD (using immunohistochemistry as a gold standard), specifically in colorectal carcinoma, found that a cutoff of three or more single base pair indels predicted MMRD with 95% sensitivity and 100% specificity in a training set and 96% sensitivity and 99% specificity in a validation set (30). Moreover, sequencing data from ARID1A, KMT2D, and SOX9 alone were able to predict MMRD in colorectal carcinomas with 76% sensitivity and 98% specificity in a validation set (30).
The increasing availability of NGS technologies and burgeoning biomarkers to guide precision therapies in oncology has made it increasingly important to practice mindful stewardship of cancer tissues. While these studies are encouraging to the development of a streamlined workflow that would allow for a single test to simultaneously assess multiple biomarkers, such a concept remains to be validated for a larger number of organ systems and clinical settings.
---
MSI in gastric and esophageal carcinomas
Gastric carcinomas comprise four major subtypes: Epstein Barr Virus (EBV)-related, microsatellite unstable, genomically stable (GS), and chromosomal instability (CIN) (34). Carcinomas with high microsatellite instability (MSI-H) comprise 5–22% of gastric carcinomas and are often present in older patients (predominantly women) (34,35) (Table 2 and Figure 1). These carcinomas are often diagnosed at an early stage, are primarily of intestinal-type histology, and have frequent methylation of MLH1 (34).

Table 2
Frequency of microsatellite instability (MSI) and mismatch repair deficiency (MMRD) at each primary site
Full table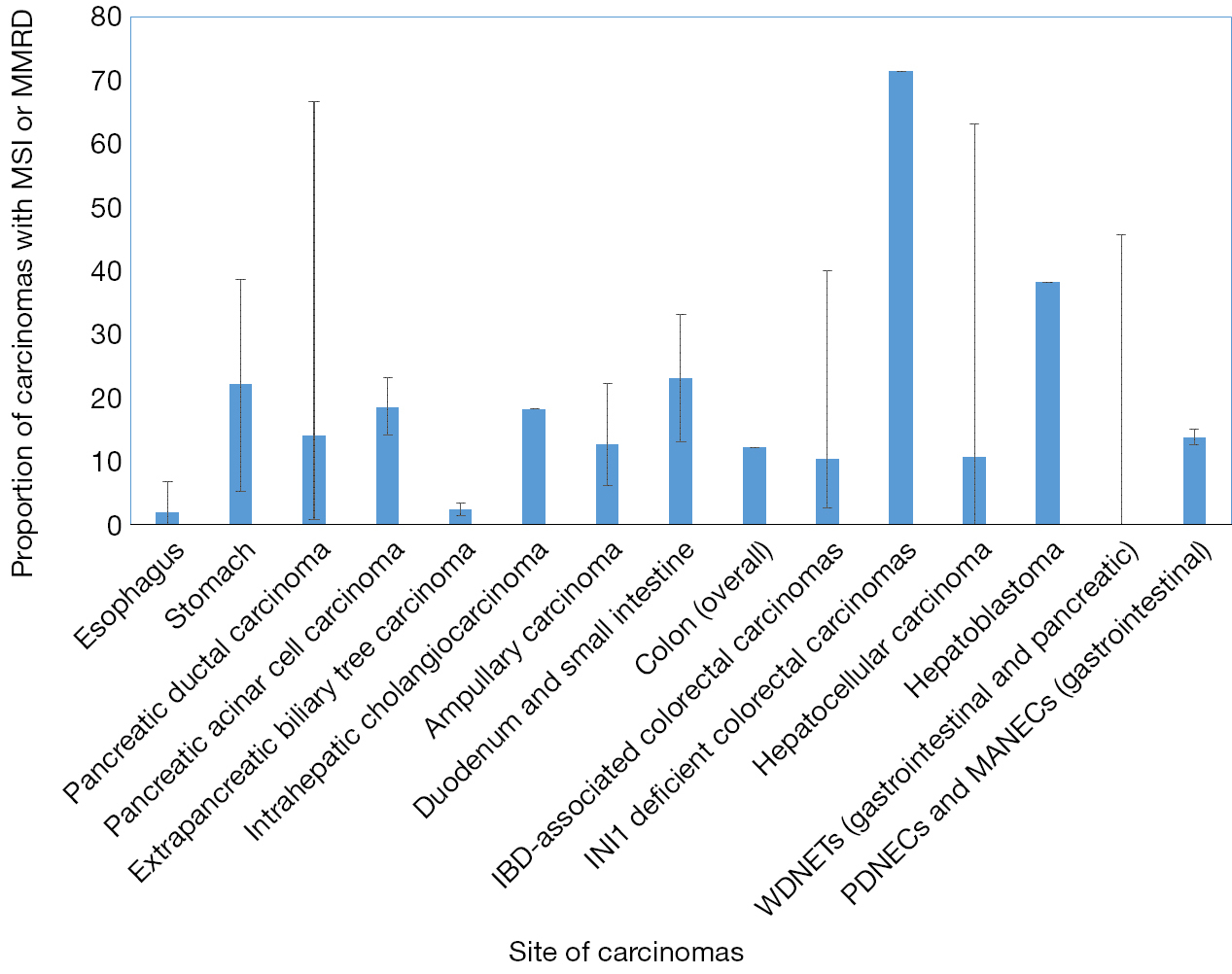 Figure 1 Proportion of carcinomas at each primary site with microsatellite instability (MSI) or mismatch repair protein deficiency (MMRD). Data is expressed as median (blue bars) and range (error bars).
Among patients with MSI-H gastric carcinomas, those with MLH1 hypermethylation tend to be older, have tumors located in the antrum, have a higher number of microsatellite loci, and have a higher number of methylated genes (36). In addition, those tumors lacking MLH1 methylation have better clinical outcomes; as germline MLH1 status was not evaluated in this series, these patients may represent a heterogeneous population of germline and somatic MLH1-deficient carcinomas (36). Moreover, metastatic MMR-deficient gastric carcinomas are more often intestinal in phenotype, Her2 negative, and positive for PIK3CA and KRAS mutations (37). Since the landmark study by The Cancer Genome Atlas (TCGA), other studies assessing prognostic significance of these subtypes have found that MSI-H and CIN subtypes have intermediate survival, while the EBV subtype is associated with the best prognosis, and the GS subtype (often associated with diffuse histology) have the worst prognosis (38). In multivariate analyses, their subtype score is independently prognostic (38). In evaluating MSI status alone, there is evidence that MSI-H stage IV gastric carcinomas have superior survival as compared to their MSS counterparts in univariate, but not after multivariate analysis (39).
In patients with resectable tumors, MMRD in gastric carcinomas are associated with good prognosis in patients who undergo surgery with curative intent, in the absence of chemotherapy. The opposite is true of patients treated with perioperative chemotherapy (epirubicin, cisplatin, fluorouracil). The poor prognosis of patients with MMRD carcinomas treated with perioperative chemotherapy suggests that mismatch repair status may play a role in stratifying patients to chemotherapy or no chemotherapy (40).
Although gastric carcinomas comprise part of the Lynch syndrome spectrum of malignancies, the exact risk is unclear (41). In a Netherlands series, the risk appeared to be more apparent in MSH2 mutation carriers in particular, with a lesser risk in MLH1 mutation carriers; none of the MSH6 mutation carriers in this series developed gastric cancer (42).
Although esophageal and gastric carcinomas receive similar adjuvant therapies, there is evidence that the molecular underpinnings of the two primary sites are not entirely overlapping. For instance, one series found that esophageal carcinomas have an MSI-H rate of 0.8%, in contrast with gastric cancer (10.3%) (43), while the TCGA series did not identify any esophageal carcinomas (squamous or adenocarcinoma) with an MSI-H phenotype (44). Similarly, loss of MMR protein expression in Barrett's esophagus-related carcinomas is rare, ranging from 3% to 6.6% (45,46) (Table 2 and Figure 1).
Given the rarity of MSI-H esophageal carcinomas, it is difficult to draw conclusions regarding its prognostic impact. In one series of MSI-H esophageal adenocarcinomas, there was no difference in survival between MMR deficient and proficient carcinomas (46). Another series found that loss of MLH1 or MSH2 by immunohistochemistry was a poor prognostic indicator in esophageal squamous cell carcinomas (47). However, the definition of loss was rather problematic in this study in that it encompassed the range of completely negative staining to the presence of focal weak staining, without orthogonal MSI testing by PCR. Larger series are needed to more clearly define the prognostic significance of MMR deficiency in esophageal carcinomas.
The FDA approval of pembrolizumab for advanced solid tumors with MSI makes evaluation of such a biomarker of great importance. However, the relationship between response to immune checkpoint inhibitors, mismatch repair protein status, and PD-L1 status is complicated. Pembrolizumab has shown encouraging results in patients with metastatic gastric cancer, with 22% of patients in the KEYNOTE-012 phase 1b trial (selected for cancers overexpressing PD-L1) showing overall response (48). As expected, PD-L1 expression in gastric carcinomas is more common in those with mismatch repair protein deficiency by immunohistochemistry (35), and may predict response in patients who have mismatch repair proficient tumors. However, PD-L1 expression alone may not fully predict all carcinomas that respond to PD-1 inhibition. In the KEYNOTE-059 phase 2 trial, 6.4% of patients with PD-L1 negative tumors had an objective response to pembrolizumab (49). Additionally, one study of 581 gastric and gastroesophageal junction adenocarcinomas demonstrated that 5.2% of PD-L1 negative tumors (as defined by less than 5% of cells showing moderate staining) had high tumor-mutational load or were MSI-H (50). While this study restricted evaluation of PD-L1 positivity to tumor cells alone, without consideration of the accompanying immune infiltrate, it is likely that prediction of response to immune checkpoint inhibitors is not a straightforward task. To date, the association between PD-L1 expression and response to anti-PD-1 antibodies remains not well established.
---
MSI in pancreatic, biliary tract, and ampullary carcinomas
Pancreatic ductal carcinomas
A subset of PDACs is characterized by MSI, with reports ranging from 0.8–67% (28,51-57) (Table 2 and Figure 1). One reason for the considerable range in the prevalence of MSI-H is likely due to the heterogeneity by which the MSI phenotype is assessed, whether by immunohistochemistry, next-generation sequencing, or PCR of microsatellite loci (MSI PCR). Among the latter cases, the loci evaluated are also variable among studies, thereby accounting for possible heterogeneity in the definition of MSI-H pancreatic ductal carcinomas. Moreover, while the NCI panel of BAT25, BAT26, D5S346, D2S123, and D17S250 is recommended for evaluating MSI in colorectal carcinoma, a comparable panel of standardized loci does not exist for pancreatic ductal carcinomas (nor for other non-colorectal carcinomas of the gastroenteropancreatic system). Despite that, an alternative definition of MSI, defined as instability in ≥30% of loci, is an acceptable substitute.
MSI-H pancreatic ductal carcinomas are associated with wild-type KRAS and TP53 status. Of note, the population in which a high rate of MSI-H tumors was found was in a Japanese population, in which almost half showed hypermethylation of the MLH1 promoter; among the patients with Lynch syndrome in this series, all had a germline MLH1 mutation (54). While some tumors were histologically characterized by increased tumor-infiltrating lymphocytes, poor differentiation, expansile borders, and/or syncytial growth suggestive of a MSI phenotype, and one case of osteoclast-type giant cell carcinoma of the pancreas was also reported (52,53,58), other studies have not found histologic features that distinguish MSI-H PDAC (28). In addition, in pancreatic carcinomas with medullary morphology, the frequency of MSI was high, ranging from 7.7% up to 60% (53,59). The association of MSI and carcinomas arising in intraductal papillary mucinous neoplasms (IPMNs) has also been reported. The rate of MMRD was found to be 1.6% by immunohistochemical screening in one study; approximately half of all pancreatic MMR-deficient cases occurred in carcinomas arising in IPMNs in one series (57) (Table 2). In contrast to mucinous colorectal carcinomas, mucinous (colloid) carcinomas of the pancreas not associated with IPMNs are usually MSS (60), although a MSI-H phenotype has been reported in an IPMN of a patient with MSH2-deficient Lynch syndrome (61).
Pancreatic ductal carcinomas with an MSI-H phenotype show superior survival to those with low or no MSI, including in multivariate analysis in some series (28,52,54); however, this was predominantly seen in studies utilizing MSI PCR, and not in those assessing MMRD by IHC (56). Notably, similar to colon and stomach (in some series), there is evidence to suggest that MMR-deficient PDAC do not experience a survival benefit to treatment with pyrimidine analogs; however, these tumors do respond to gemcitabine (56,62). In addition, similar to other organ systems, MMR-deficient PDAC are responsive to immune checkpoint inhibitors (28,63,64).
Pancreatic acinar cell carcinomas
Acinar cell carcinoma of the pancreas is rare, accounting for approximately 1% of all pancreatic cancers. Patients with acinar cell carcinoma diagnosed in the setting of MSH6-deficient Lynch syndrome have been previously reported (65). The range in the prevalence of acinar cell carcinomas with MSI varies from 7.6% (high-level MSI by microsatellite PCR) to 14% (by immunohistochemistry), with 23% of cases showing any level of MSI (66,67) (Table 2 and Figure 1). By immunohistochemistry, a series of 36 acinar cell carcinomas showed loss of MMR proteins by immunohistochemistry in 14% of cases (5 of 36), including 2 with MLH1/PMS2 loss, 2 with MSH2/MSH6 loss, and 1 with MSH6 loss (67). Two of the patients with loss of MMR proteins by IHC also had a known history of Lynch syndrome (67). Similar to some series of pancreatic ductal carcinomas, MMRD acinar cell carcinomas did not exhibit distinct morphological features (67).
Biliary tract carcinomas
MSI is an uncommon event in biliary tract carcinomas as well, comprising 1.3–18.2% of the tumors (non-Lynch associated) (68-70) (Table 2 and Figure 1). In one cohort, no notable trends in prognosis could be drawn from this data, likely due to the relatively small number of cases exhibiting MSI (68). In a cohort of Western, non-liver fluke associated cholangiocarcinomas, the tumors with MSI tended to occur in younger patients, were intrahepatic or perihilar, and had unusual histology; two intrahepatic cholangiocarcinomas showed papillary and mucinous histology, while one perihilar cholangiocarcinoma showed solid and cribriform morphology (69). In this cohort, there was a significant benefit to overall survival in patients with MSI-H tumors (69). In liver fluke associated cholangiocarcinomas, there is varying data on the frequency of MSI-H tumors; although some studies assert it is rare (71), others quote a rate of up to 69% (72).
Biliary tract carcinomas associated with Lynch syndrome are rare. In one series of patients with follow-up due to an established diagnosis of Lynch syndrome, biliary tract carcinomas often occurred in men, often in the late 50s, and often after patients were diagnosed with a previous Lynch-related neoplasm (colorectal carcinomas predominating) (73). Although the sample size was relatively small (n=11), the survival data was suggestive of an advantageous survival benefit to MLH1 over MSH2 mutations, and, as a group, improved 5-year survival for Lynch-associated biliary tract carcinomas compared to all carcinomas (73); the improved survivorship for MSI-H biliary tract carcinomas was similar in the non-Lynch associated setting (69).
Ampullary carcinomas
MSI and underlying MMRD have similarly been described in carcinomas of the ampulla of Vater, ranging from 6% up to 22.2% of cases (74-79) (Table 2 and Figure 1). In comparison, a series of non-ampullary duodenal carcinomas showed mismatch repair protein deficiency in 13% of cases (80), while another series found MSI in 33% of total cases (81) (Table 2 and Figure 1). One series, including 89 adenoma-associated carcinomas and 170 pure adenocarcinomas, found that 10% of ampullary carcinomas showed high microsatellite stability (MSI-H), with another 4% showing MSI-L, while 9% and 11% of adenomas also showed MSI-H and MSI-L phenotypes respectively (79). Moreover, concordant MSI results were seen in 75% of MSI-H adenoma/adenocarcinoma cases and 91.3% of MSS adenoma/adenocarcinoma cases (79), suggesting that additional hits beyond loss of mismatch repair were required for progression to carcinoma. The majority of cases showed loss of MLH1, with more than three quarters of MLH1-deficient tumors showing hypermethylation of the MLH1 promoter (79). Other patterns of loss included loss of MSH2 and MSH6, as well as singular loss of MSH6 (79). Ampullary carcinomas were histologically characterized by features such as mucinous and/or intestinal morphology, expansile growth patterns, and the presence of tumor-infiltrating lymphocytes and Crohn's-like reaction; no defining histologic features were described for adenomas with MSI (79). Similarly, in one series of adenocarcinomas of the minor duodenal papilla, two of nine cases showed loss of mismatch repair proteins by immunohistochemistry (one with MLH1 and PMS2 loss, and one with MSH6 loss); neither case underwent germline testing (82). Histologically, MSI-H ampullary carcinomas (including those of the minor duodenal papilla) are characterized by mucinous intestinal histology, poor differentiation, expansile growth pattern, marked tumor infiltrating and peritumoral lymphocytes, and an associated Crohn's-like reaction (79,82) (Figure 2), features similar to their counterparts in the colon.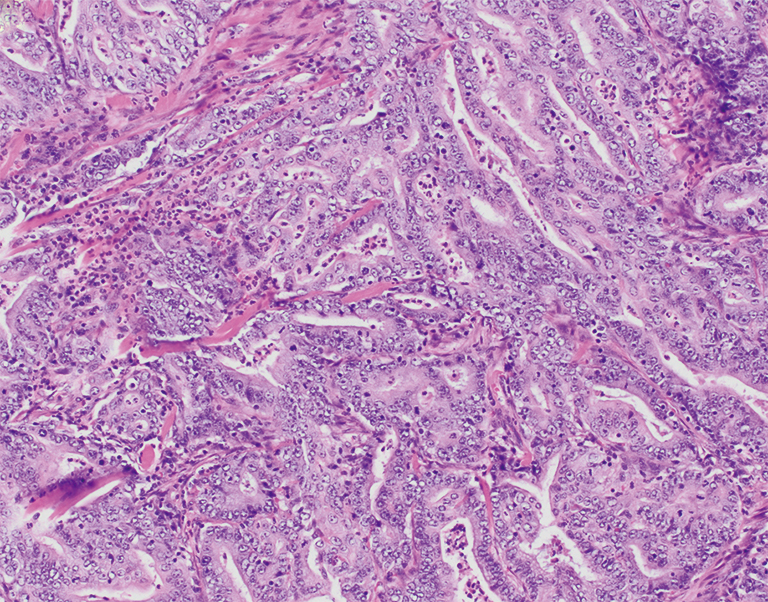 Figure 2 Duodenal adenocarcinoma in a patient with Lynch syndrome showing brisk infiltrating immune cells (H&E, 200× magnification).
Prognostically, patients with MSI-H tumors and those with tumor infiltrating lymphocytes also had a favorable overall survival over MSS tumors (mean survival 88 months compared to 68 months, respectively) (79).
---
MSI in hepatocellular neoplasms
Hepatocellular carcinomas
Hepatocellular carcinomas are generally considered MSS with a low tumor mutational burden (TMB) (83), although the proportion of hepatocellular carcinomas showing MSI-H varies in the literature, ranging from 0–3% (84-86), up to 40% (87,88) (Table 2 and Figure 1). The proportion of MSI-H hepatocellular carcinomas in Western studies ranges from 0% to 41% (89-92) (Table 2 and Figure 1). A French series found a MSI-H phenotype in 16% of hepatocellular carcinomas arising in histologically normal background livers (non-alcoholic, non-viral) (90). Using a limited immunohistochemical set (MLH1 and MSH2), all of the MSI-H cases showed intact staining for these markers (90); however, the lack of assessment of the obligate partners precludes definitive assessment of the correlation between MSI and MMR deficiency by immunohistochemistry in hepatocellular carcinomas. Similar to evaluation of MSI in other non-colon gastrointestinal organs, the methodology for evaluating MSI varies among studies, ranging from MSI PCR only, to some combination of MSI PCR and immunohistochemistry (84,85,87,88,91).
Despite the low frequency of MSI found in many studies, there is evidence suggesting that polymorphisms in mismatch repair genes confer increased risk for hepatocellular carcinomas (93). Interestingly, in contrast to other organ systems, a MSI-H phenotype in these tumors was associated with more aggressive gross and histologic features (larger size, absence of a capsule) and shorter metastasis-free survival as compared to low MSI and MSS tumors in hepatocellular carcinomas arising in normal background livers (90). In another study of hepatocellular carcinomas (inclusive of any kind of background liver), similar conclusions were drawn, although the decrease in cumulative disease-free survival was seen only with one microsatellite marker (91). The mechanism behind this remains unclear, and further work is needed to clarify the relationship between MSI and outcome.
Despite the relatively low frequency of MSI in hepatocellular carcinomas, there is interest in the use of immune checkpoint inhibitors in this subset of tumors. In one pilot study of patients with hepatocellular carcinoma and chronic hepatitis C viral infection, 17.6% of patients achieved a partial response, and 76.4% achieved disease control; although marked transaminase elevations were noted in some patients, none required steroids for immune related adverse events (94). Similarly, a more recent study in patients unresponsive or intolerant to sorafenib, 17% of patients had an objective response to checkpoint blockade, with 1 patient having a complete response (95), suggesting that factors other than mismatch repair status mediate response to immune checkpoint inhibitors in these patients.
Hepatoblastomas
Hepatoblastomas are one of the most common liver malignancies of childhood. One series of sporadic hepatoblastomas combining microsatellite PCR and immunohistochemistry for MLH1 and MSH2 found that up to 81% of hepatoblastomas showed any degree of MSI by PCR, and 38.1% showed high levels of MSI (96) (Table 2 and Figure 1). However, only four of the seven available cases for mismatch repair protein immunohistochemistry showed loss of MLH1, MSH2, or both, possibly because the obligate partners were omitted in their panel (96), and definitive conclusions cannot be drawn regarding correlation of immunohistochemistry and PCR in these tumors.
---
MSI in colorectal carcinomas
Clinicopathologic features of colorectal carcinomas with deficient mismatch repair
Approximately 25% of colorectal carcinomas are hypermutated, either as a result of MMRD (approximately 15%) or polymerase mutations (97). In addition, a subset of these (3–5%) are Lynch associated, resulting from germline mutations in one of the mismatch repair genes (MLH1, PMS2, MSH2, and MSH6). Traditionally, mismatch repair testing was performed for the purpose of Lynch screening, with the risk of colon cancer dependant on the type of mutation. In general, germline mutations in MLH1 confer a higher risk of developing colon cancer as compared to MSH2, MSH6, and PMS2.
Histologically, colon cancers with MSI-H are characterized by medullary histology, mucinous or poorly differentiated phenotype, and increased intraepithelial lymphocytes (98) (Figure 3). In addition, loss of SATB2, an immunohistochemical marker of lower gastrointestinal differentiation, is correlated with both MMRD by immunohistochemistry and presence of BRAF mutation (99). Moreover, there is evidence that mismatch repair deficient colorectal carcinomas with loss of SATB2 or CDX2 have poorer prognosis than those with retained SATB2 or CDX2 expression (100).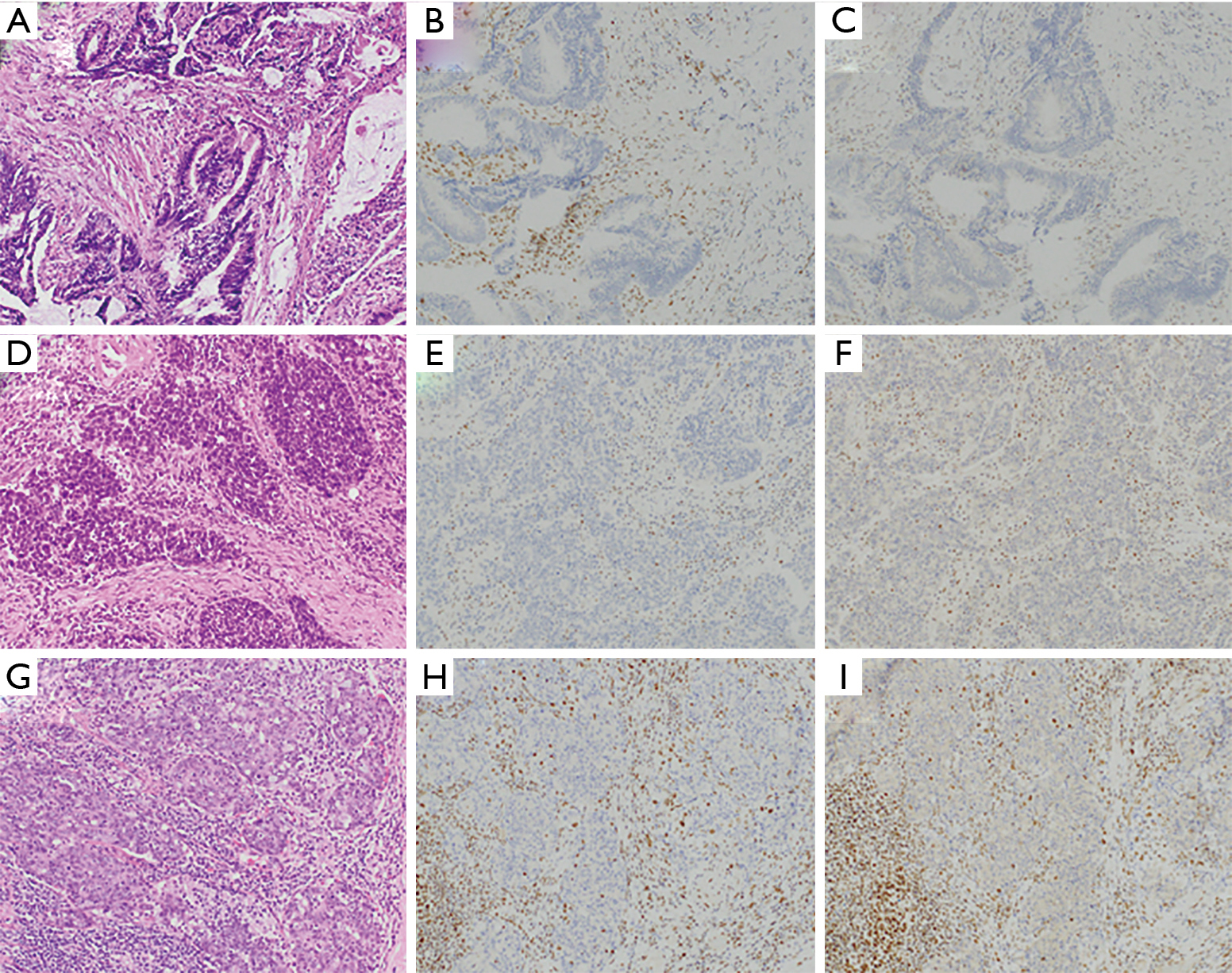 Figure 3 Morphologic features of gastrointestinal carcinomas with high microsatellite instability (all images at 200× magnification). (A) Invasive colonic adenocarcinoma with mucinous features (H&E) with loss of (B) MLH1 (clone G168E505, DAKO, ready to use) and (C) PMS2 (clone EP51, DAKO, ready to use). (D) Invasive medullary carcinoma of the colon (H&E) with loss of (E) MLH1 and (F) PMS2. (G) Invasive gastric adenocarcinoma (H&E) with increased infiltrating immune cells with loss of (H) MLH1 and (I) PMS2. MSH2 and MSH6 in each case (not shown) were retained.
MMRD colorectal carcinomas show improved disease-free survival compared to MSS carcinomas, although the improved survival appears restricted to stage 2 disease (101,102). For example, in one series of Korean patients, patients with MSI-H colorectal carcinomas who develop recurrence have poorer prognosis than MSS carcinomas, likely due to lack of benefit from conventional pyrimidine-based chemotherapy regimens (a phenomenon that has previously been documented in prospective series (103,104), accounting for the role of MMR status in stratifying patients to chemotherapy or not in stage II disease). However, these findings do not take into account those patients treated with immune checkpoint inhibitors, a newly available option since the approval of pembrolizumab for carcinomas with high levels of MSI (4). Of note, the role of BRAF mutation was not evaluated in this study (101). Recurrent disease in patients with MSI-H colorectal cancers has a predilection for local recurrence and peritoneal metastases (101). Among patients who already have metastatic disease, BRAF V600E mutation status appears to confer a worse prognosis, and mismatch repair mutation status does not alter survival in the metastatic setting (105-107).
INI1/SMARCB1-deficient carcinomas
The assessment of prognosis in MSI-H colorectal carcinomas is further complicated by the INI1-deficient colorectal carcinomas. INI1-deficient carcinomas comprise <1% of all colorectal carcinomas (108-110), and have been found at other sites of the gastrointestinal tract including stomach, small bowel, and esophagus (109,110). They comprise a subset of tumors with poor differentiation, loss of CDX2, and sometimes co-inactivation of SMARCB1 and SMARCA2 (108,109,111). Histologically, they are characterized by large cells with abundant eosinophilic cytoplasm and rhabdoid morphology (108). Loss of INI1 can be either focal or diffuse, and is often intact in well-differentiated areas and lost in poorly differentiated ones (108).
Additionally, almost three quarters of INI1-deficient carcinomas in one series had MMRD, BRAF V600E mutation, and poor survival; however, this was not borne out on multivariate analysis (108). Of note, loss of ARID1A, another chromatin modifier, has also been found to be strongly associated with MMRD and BRAF V600E mutation, suggesting alterations of chromatin modifying genes to be a feature in a subset of colorectal carcinomas arising in the setting of somatic hypermethylation (112).
Inflammatory bowel disease (IBD)-related neoplasia
Patients with IBD are known to have a higher risk of colorectal neoplasia. MSI-H has been reported in colorectal carcinomas in the setting of IBD, although the range is variable, from 2.4% to 18.2% (113-115) by immunohistochemistry (Table 2 and Figure 1). In one series of 124 IBD-related colorectal cancers and dysplasias, 19 of 124 (15.3%) cases (inclusive of dysplasias and carcinomas) were MSI-H (116). In addition, one series also found MSI in up to half of non-neoplastic samples of patients with ulcerative colitis, with no evidence of MSI in normal colon samples (117). By immunohistochemistry, one study found loss of MLH1 and PMS2 expression in 4 tumors and loss of MSH2 and MSH6 in one tumor (118). IBD-associated MSI-H colorectal carcinomas are characterized by histologic dissimilarity to sporadic MSI-H colorectal carcinomas, with lack of Crohn's-like lymphoid reaction, mucinous differentiation, or signet-ring-cell differentiation (118), although one case reported a medullary-like histology (119). Although unlikely to be as a result of Lynch syndrome, germline mutation testing in subsequent studies may be considered, as both Lynch and IBD-associated carcinomas occur in younger patients, and the former has implications for familial cancer screening.
Therapeutic implications of MMRD in colorectal carcinomas
MMR protein status is important in colorectal carcinomas in part because of a lack of response to conventional pyrimidine-based chemotherapeutics; this lack of response is more pronounced in sporadic MMR-deficient colorectal carcinomas, while Lynch-associated carcinomas derive some benefit from conventional fluorouracil-based chemotherapeutic regimens (4,120). Moreover, MMR protein status plays a pivotal role in determining the appropriate systemic therapy for a given patient and in predicting response to checkpoint inhibition (121). To date, combination treatment with nivolumab/ipilimumab or single agent pembrolizumab has been shown to be both safe and efficacious in patients with MMR-deficient colorectal carcinoma (122-125). Although currently blockade of either CTLA-4 or PD-1 is achieved through binding of antibodies to the proteins of interest, new preclinical initiatives include investigation of small molecule inhibitors that bind to PD-L1 and disaggregate the PD-1/PD-L1 complex in vitro (126); however, more work is needed in this area prior to extension to clinical practice. In addition to immune checkpoint inhibition using monoclonal antibodies, other investigational treatments include adoptive cell transfer (tumor vaccines). Adoptive cell transfer is also in its early stages; while tumors appear susceptible in in vivo mouse models, benefits to progression free and overall survival are limited in the clinical setting, and additional work needs to be done (127-130).
---
MSI in gastrointestinal and pancreatic neuroendocrine tumors
The range of gastroenteropancreatic well-differentiated neuroendocrine tumors showing MSI-H ranges from 0% to 10.4% as assessed by microsatellite PCR (MSI PCR) or immunohistochemistry (131-133) (Table 2). A subset shows MSI-L (13.2%) with no difference between primary and metastatic sites in one series (131); similar to other gastrointestinal systems, the significance of this is unclear.
Pancreatic neuroendocrine tumors are not generally characterized by MSI-H, despite a proportion of cases that exhibit higher tumor mutational burden (83). However, one series of insulinomas suggested that up to 33% of sporadic insulinomas had a MSI-H phenotype with reduced expression of MLH1 by immunohistochemistry (134).
Prognostically, there is a suggestion of improved survival in patients with MSI-H pancreatic neuroendocrine tumors over MSS tumors at five years (132).
Poorly differentiated neuroendocrine carcinomas of the colon show a more substantial subset of cases with MSI (15%). MSI and promoter hypermethylation were features linked to better prognosis in one series (135). In another series of gastroenteropancreatic poorly differentiated neuroendocrine carcinomas and mixed exocrine-neuroendocrine carcinomas, 12.4% of cases showed a MSI-H phenotype including 7 poorly differentiated neuroendocrine carcinomas and 4 mixed adeno-neuroendocrine carcinomas (136) (Table 2 and Figure 1). Of the mixed adeno-neuroendocrine carcinomas, the exocrine component comprises a mucinous adenocarcinoma in two cases and an adenocarcinoma, not otherwise specified (NOS), in the remaining two. All cases were from the stomach, colon, or duodenum. There was also a significant association between MSI status and BRAF V600E status, likely as a result of the large proportion of colonic poorly differentiated neuroendocrine carcinomas and mixed adeno-neuroendocrine carcinomas in this cohort (136).
---
Conclusions
The prevalence of gastrointestinal and hepatopancreatobiliary carcinomas with MSI is variable but highly site-specific, ranging from infrequent (such as in hepatocellular carcinomas) to relatively more common and characteristic of distinct clinicopathologic subsets (such as in the colon). MMR status predicts differential response to fluorouracil-based chemotherapeutic regimens (such as in gastric, pancreatic, and colorectal carcinomas). With the exception of colorectal carcinomas, in which well-established algorithms of MSI testing exist, other primary sites in the gastrointestinal and hepatopancreatobiliary system do not have broadly accepted ways of evaluating MSI. For example, while the NCI panel exists for microsatellite PCR assessment of MSI in colorectal carcinomas, a comparable panel does not exist for pancreas, stomach, or other sites. Moreover, in limited immunohistochemical evaluation at some sites, there are suggestions that the most commonly lost mismatch repair proteins in colon (MLH1 and MSH2) are not lost by immunohistochemistry in MSI-H carcinomas of other sites. With the validation of NGS-based technologies in predicting MSI in colorectal carcinomas as a proof of principle, further work will be needed to expand this to other organ systems, possibly decreasing the need for redundant testing.
While assessment of MMRD has traditionally been for Lynch syndrome evaluation, determining eligibility for PD-1 blockade in patients with advanced-stage tumors is increasingly common. Durable response to PD-1 blockade has been documented in multiple advanced stage malignancies with MMRD (137). Because of these treatment implications, assessment of MSI is increasingly being recommended for stage IV disease (in esophageal, gastric, and colorectal carcinomas) (138).
There are considerable overlap and interplay among proposed biomarkers of immune checkpoint inhibitor response (PD-L1 immunohistochemistry, MSI, and tumor mutational burden); for example, MSI-H colorectal carcinomas with elevated levels of PD-L1 expression have previously been shown to have worse outcome (139). However, these biomarkers are not perfectly concordant with each other in predicting response (83). For instance, anal carcinomas and esophageal squamous cell carcinomas do not have a high rate of MSI, but they do have a substantial proportion of cases that are positive for PD-L1 immunohistochemistry (approximately 37% and 43% respectively as defined by moderate staining in at least 5% of cells) (83). As such, challenges remain for the optimal assessment of individual markers (or combination of markers) to predict response to immune checkpoint inhibition. Of note, a streamlined method of evaluating multiple biomarkers using the same test (i.e. , mutation status of key oncogenes such as BRAF and KRAS, as well as MSI) will be of great utility in the era of precision oncology, where tailored therapies are increasingly expected.
---
Acknowledgments
None.
---
Footnote
Conflicts of Interest: The authors have no conflicts of interest to declare.
Ethical Statement: The authors are accountable for all aspects of the work in ensuring that questions related to the accuracy or integrity of any part of the work are appropriately investigated and resolved.
---
References
doi: 10.21037/pcm.2019.09.03
Cite this article as: Wu EY, Resnick M. Predictive and prognostic implications of microsatellite instability and mismatch repair deficiency in carcinomas of the gastrointestinal tract, liver, and pancreas. Precis Cancer Med 2019;2:36.